Training Important Skills: We present customized, energizing workshops that solve problems and build effective organization cultures.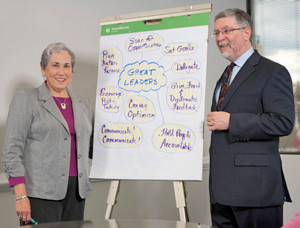 Training can be a powerful approach when there is a genuine need for new or refreshed knowledge and skills. We design, customize and deliver a wide range of highly interactive and challenging educational and skill-building experiences to improve individual, group or organizational productivity. Our sessions engage people to participate, build critical skills, become more effective in their roles and grow their careers.
Topics include: Leadership, Consultation Skills, Change Management, Team Work Strategies and Skills, Communication Styles, Group Dynamics, Conflict Resolution, Meeting Facilitation Skills, and Board / Staff Relations.
We enjoy partnering with internal Human Resources professionals to craft learning events that meet identified needs. Our workshops and briefings provide useful concepts, practical approaches, skill practice, and action planning. Further, we utilize graphic recording and other advanced learning methods to enhance creativity and learning.
Selected Recent Training Projects
Managing Change
Our client organization had recently undertaken major changes in its mission, culture and operations. To support the effectiveness of the leadership group of executives, directors and managers, we partnered with internal HR staff to conduct a needs assessment and to customize and deliver interactive briefings on Managing Change. Included were:
A Model of Change
Normal, predictable reactions to change in individuals and groups
Effective leadership approaches
Typical obstacles
Tried and true actions that succeed
Application plan
Internal Consulting
As part of a comprehensive redefinition of the role of its HR professionals, our client organization challenged them to learn the skills of internal consulting so that they could be effective business partners with their clients. We conducted a needs assessment, designed and delivered a series of customized learning events that included the following:
Core ideas and skills of internal consulting
Relevant case studies
Key ethical challenges and how to handle them
Practical models and tools
Behavioral practice and skill building
Follow-up review and problem solving